Spotlight On: Josh Rubin - June, 2018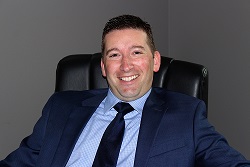 Please tell us about your background, about your experience in criminal law, how you came to the practice, where you practice, and how long you have practiced criminal law.
I was born and raised in Port Huron, Michigan. Ever since I was young, I aspired to become a law enforcement officer. This desire led me to Michigan State University where I studied criminal justice. When I began college, my goal was to become a federal officer/agent with either the FBI, ATF, or CBP. Midway through college, as I learned more about the criminal justice system, my focus changed from law enforcement to the legal system. I spent much of my last year of college researching and ultimately decided to attend law school. After graduating from MSU, I began law school in the fall of 2000 at Michigan State University College of Law where I graduated in 2003.
After weighing my options, I decided to return to my hometown of Port Huron to work in private practice. I worked for almost 2 years as an associate at a small firm that, as a whole, did not focus on criminal defense work. I began working the court appointed list to get my feet wet and gain experience. I then jointed my current Firm of Bales, Lepley & Rubin in January of 2005, which was a much better fit for me as our firm specializes in criminal defense. During my journey, I have focused mainly on retained and appointed criminal cases with very limited involvement in family law matters.
Please tell us about one of your interesting cases. What were the theories of the parties?
I recently represented a client charged with assault by strangulation, interfering with electronic communication, and domestic violence. The allegation was that my client strangled his fiancé during a heated argument, smacked the phone out of her hand as she was talking to 911, and finally tossing her out on his front porch (the latter of which my client admitted to). This was a difficult case. There were injuries (bruising), extensive medical treatment/follow up (EMS and ER), 768.27b prior DV allegations (from alleged victim) with photographs to back up the allegations, and a somewhat persuasive alleged victim.
The PA's theory was that my client was a control freak who "snapped" during an argument over relationship issues. Our theory was that the alleged victim actually attacked him first and then called 911 making allegations of "choking" in order to cover up her own actions. My client was adamant that his accuser was a classic narcissist who made up the allegations once she realized their relationship was over (after she assaulted/battered him). I knew that to win this case I would need to show the jury her true colors. The jury acquitted on all three charges. I later learned that the 3+ hour deliberation centered solely on whether my client was guilty of the DV. As a whole, the jury was never really sold on the felony counts.
What trends - good or bad - have you noticed in Michigan criminal law over the years?
I have noticed the trend towards improving the indigent defense system. I believe that reforms are necessary and much needed. Mandatory education and training, greater independence from the judiciary during the appointment process, better access to expert witnesses, etc. Many have understood that these reforms are needed, and new standards are being implemented. Hopefully, this will translate into more quality indigent defense systems statewide.
What advice do you have for other criminal defense lawyers?
Practicing criminal defense is obviously not easy. We all know that the cards are stacked against a defendant facing criminal charges. Our clients are not always the easiest to handle. That said, I have found that there are ways to overcome some of the difficulties of the criminal defense practice.
Do your best to get along with and respect your opponent. I often see (much less successful) attorneys treating the persecutors poorly just because they believe it is part of the gig. Don't do it. Picking and choosing your battles will serve you wisely. I firmly believe that there are times where you should "put the gloves on and fight" and other times where you have to go "hat in hand" and do damage control. Know the difference and analyze each case carefully to determine the best course of action for your client.
Simply taking the time to listen to, understand, and empathize with your clients can work wonders in building strong attorney-client relationships. I recently met with a client who was very stand-offish and who, I knew, looked at me very skeptically as just another court appointed lawyer who could care less about the "hardened criminal" sitting in front of him. All it took was ½ hour of time talking with him to understand his situation. Before long, my client was in tears as we discussed his circumstances and he knew that I genuinely cared about helping him. Treat your clients well, and they will do the same. Sometimes you just have to kill them with kindness.
Do you have any specific advice for new lawyers?
Know the facts of your case better than your opponent. This will serve you well as you present and argue your cases. Take time to understand the difficult aspects of your case. In my assault by strangulation case referenced above, I spent countless hours studying the medical aspects/considerations of a strangulation case. This served me well at trial during cross examination of the medical professionals and other witnesses. Enroll in the CDAM Trial College. This will likely be a career-altering experience for you. Work hard, but also play hard. Don't allow yourself to burn out.
by Neil Leithauser
Associate Editor