Spotlight On: Krystle-Marie Medina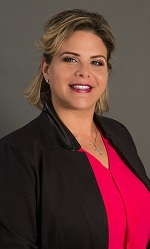 Please tell us a little about your background, your practice, and how you came to practice criminal law.
My family emigrated from Cuba, and I was born in Miami, Florida. My brother and I were raised by my mother who provided us with the support necessary to accomplish anything we set out to achieve. I earned my Bachelor's Degree in 2007 and my Juris Doctorate Degree in 2010 from the University of Florida in Gainesville, Florida. My desire to practice criminal law is the reason that I went to law school. Throughout law school, I worked with a federal criminal defense attorney and completed an externship at the U.S. Attorney's Office for the Southern District of Florida. Shortly after becoming licensed to practice law in Florida in 2011, I decided to move to Michigan with my fiancé where I began to work at an immigration law firm since I was able to practice in immigration court with my Florida license. I was licensed to practice in Michigan in 2013. The following year, I decided to open my own solo law firm. I currently handle family-based immigration cases and criminal cases.
Please tell us about one of your interesting cases.
One of my clients was accused of operating while intoxicated causing serious bodily injury and failing to stop at an accident that caused serious impairment or death in 2015. These allegations arose after an accident between my client's vehicle and a motorcycle. My client was the registered owner of the vehicle, the police went to his home where they obtained the keys to the vehicle from him, and my client, given a language barrier and feeling terribly for what had happened, gave a statement that seemed like a confession. While the evidence was aligned against my client, he adamantly maintained his innocence. Additional investigation would show that my client was not the driver, but rather a friend of his that had indicated he was able to drive that evening. No one ever heard from his friend after the accident, and he never returned to work. Before the car was scrapped, I requested that the Michigan State Police analyze the DNA on the driver's side airbag. The DNA analysis excluded my client as the driver of the vehicle. In addition, street video would show that the motorcycle driver contributed to the accident. The felony charges against my client were dismissed. Sadly, however, he spent approximately ninety days in jail pending the resolution of this matter because there was an immigration hold given the serious nature of the charges.
What significant trends – good or bad – have you noticed in Michigan criminal law over the years?
Trial courts in Michigan are expected to resolve their cases within ninety days, something that is regularly followed in Wayne County where I primarily practice. I think this specific limitation is problematic. The criminal justice system should protect the rights of the accused while seeking justice. Every case involves a unique set of circumstances and, while many cases can be resolved within this time frame, there are others in which the accused is significantly prejudiced by the "rocket docket." The need for additional investigation is evident in the frequent appointment of investigators. However, defense attorneys, investigators and the accused alike are often limited in what they can do that may, ultimately, affect the outcome of the case.
What are some things that can improve the criminal justice system?
I believe that proper and adequate investigation is essential to improve our criminal justice system. Too many times, individuals are charged, and the loose ends or questions are left to be resolved during the pendency of a case within a specified time frame. I had a client that was alleged to have filed a false police report when she reported that someone had attempted to steal her car. Her car ended up on the street with a ticket. The assumption was that my client lied to get out of a parking ticket. A review of the 911 calls from that evening revealed that someone had reported several men moving my client's car into the street in the middle of the night. My pregnant client with no criminal history was arrested, charged, and required to appear at several court hearings to defend herself. We are dealing with a system that is overburdened. Proper investigation allows the courts, prosecutors, and defense attorneys to better utilize their resources and abilities.
Do you have any advice for lawyers new to criminal practice?
I think that the relationships that you build while practicing criminal defense are very important. I have found that many attorneys in Michigan are willing to assist their peers. I could not have accomplished what I have thus far without my mentors and colleagues. We provide each other with coverage and help one another when we can. You could be the most intelligent attorney but a lot of what we do comes down to the day to day practice. How are certain cases handled in Oakland when compared to Wayne? How do different judges run their courtrooms? What experiences have others had with specific strategies? We should support each other in meeting our common goal: providing each of our clients with the best defense possible.
Ms. Medina's website:
https://k-m-law.com/#services
by Neil Leithauser
Associate Editor