Members
Thomas W. Cranmer
Chair of Commission
Supreme Court Designee
Appointed: June, 2011
Term Expires: May 24, 2023 

Mr. Cranmer, a former President of the State Bar of Michigan, is a Principal and Managing Director of Miller Canfield, Michigan's largest law firm. With more than 35 years of courtroom experience, Mr. Cranmer's practice focuses largely on white-collar criminal defense, complex commercial litigation and arbitration/facilitation matters. Over the years, he has repeatedly been recognized as one of Michigan's leading trial lawyers.
Judith Gracey
Commissioner
State Bar Designee
Appointed: August 8, 2007
Term Expires: May 24, 2023

Ms. Gracey is a prominent attorney with a diversified practice that includes defense of state and federal criminal defendants, centered in her Sylvan Lake office. A former president of the Oakland County Bar Association, Ms. Gracey has served on the State Bar of Michigan's Criminal Justice Task Force and Criminal Jurisprudence Committee.
JoAnn Lank
Commissioner
Michigan Court of Appeals Designee
Appointed: May 26, 2022
Term Expires: May 24, 2026
Ms. Lank has worked for the Michigan Court of Appeals for over 30 years and currently serves as District Clerk of the Detroit Office. She is a member of the Court's Quality Review and Court Rules Committees and took a leading role in rewriting the Court's manuals to assist self-represented litigants.
Thomas McNeill
Vice-Chair of the Commission
Supreme Court Designee
Appointed: June, 2011
Term Expires: May 24, 2023 

Mr. McNeill, 2011 President-Elect of the Federal Bar Association (Eastern District), is Practice Manager of the Commercial Litigation and Alternative Dispute Resolution Department of Dickinson Wright, the state's fourth-largest law firm. Mr. McNeill has represented a large number of prominent companies and firms in securities and ERISA class actions, SEC investigations, and other business matters. Having tried 34 cases to verdict or award, he has compiled a record of winning 33 of those cases.
Darryl J. Woods
Commissioner
Governor's Designee
Appointed: June 12, 2020
Term Expires: May 24, 2024

Darryl J. Woods, of Detroit, is an elder at Greater Temple in Detroit and a youth mentor. Mr. Woods is a returning citizen. He was the chairman of the NAACP Detroit Branch Program Committee for over 15 years and he created a youth deterrent program, now referred to as Cared Straight, that diverted youth from the juvenile justice system.
Doug Mains
Commissioner
State Bar Designee
Appointed: May 24, 2016
Term Expires: May 24, 2023
Mr. Mains is an attorney with Dykema Gossett PLLC, in Lansing, a position he has held since 2015.  Prior to joining Dykema, Mains was deputy legal counsel and senior policy advisor for the Michigan House Republican Policy Office. Mains earned his bachelor's degree in government from Cornell University, his law degree from the University of Mississippi, and his Master of Laws degree from the University of Alabama.
Hon. Thomas L. Solka
Commissioner
Michigan Judges Association Designee
Appointed: May 26, 2021
Term Expires: May 24, 2025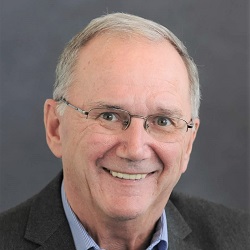 Judge Solka retired in 2017 after serving eighteen years as a Circuit Court judge for the 25th Circuit in Marquette County. Following retirement from the bench Judge Solka started a mediation and arbitration practice serving the Upper Peninsula and Northern Michigan. Before election to the bench in 1998 Judge Solka had 25 years of courtroom experience as a trial and appellate attorney in the Upper Peninsula and northern Wisconsin. His litigation career included experience as a legal services attorney, court appointed counsel for indigent people accused of crimes, and as an Assistant Prosecutor for Marquette County. After leaving the public sector Judge Solka went into private practice concentrating in civil trial and appellate work. He was admitted to practice in Michigan and Wisconsin state courts, the Federal District Court for the Western District of Michigan, and the United States Court of Appeals for the Sixth Circuit. Following his retirement from the bench the Michigan Judges Association awarded Judge Solka the Hilda Gage Judicial Excellence Award for his contributions to the profession, legal scholarship, and to his community.